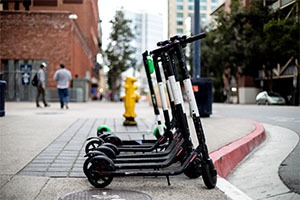 When we think of common methods of daily transportation, we often think of cars, trucks, bikes, and buses. But a new method may just be coming to Toronto: electric scooters. Electric scooters, commonly referred to as e-scooters, are battery-powered scooters.
In fact, the City of Toronto is currently reviewing a motion pertaining to a proposed five-year-pilot program that would allow the devices to be on Ontario's roads. E-scooters could also potentially be added to the city's bike share. The Progressive Conservative government brought the idea of legalizing e-scooters and allowing them to be ridden wherever bicycles can be used.
A Motion to Regulate
The motion, which was presented to the infrastructure and environment committee, expresses the need to control Toronto's commercial use of these s-scooters.
"While the province's changes to the HTA will likely enable individuals to use e-scooters, it is critical from a safety and accessibility perspective that the city has the authority to regulate any mass deployment of e-scooters on a commercial basis (e.g., scooter share) through a permit system. This would include the ability to manage the number of e-scooters, locations where they can operate, maintenance and operations requirements, communications protocols between the city and e-scooter rental/sharing companies and data-sharing requirements," it reads.
Essentially, the motion suggests including e-scooters as part of the bike share in order to have control of and regulate their use. Currently, e-scooters may only be used on private property, but if the city council passes the motion next month that would change. However, the motion would prohibit the use of these scooters on pedestrian walkways and sideways, and would make it illegal to park, store, or leave one on either the street or the sidewalk.
Bird Canada on the other hand, which is starting its own pilot project in the city's Distillery District, would allow for e-scooters to be left anywhere. This is of great concern to many, as the scooters would be a nuisance if they were left just anywhere. This is exactly how some residents feel about it in cities where e-scooters have already been legalized.
Safety Tips
This is not to mention the danger to the rider should they be involved in an accident. Luckily, there are some things that can be done to increase your safety on an e-scooter. These include:
Wearing a helmet
Forgoing headphones
Decelerating downhill
Utilizing bike lanes
Following traffic laws
It is yet to be determined as to whether or not city council will, in fact, pass the motion, but the next meeting will be held on Oct. 2.
Cariati Law Can Help
If you or a loved one has been injured in a motor vehicle accident due to the negligence or recklessness of another, it can be emotionally overwhelming and can impact many aspects of your life. You may not even know where to start. That's why it is so important to consult with an experienced and knowledgeable Car Accident Attorney.
At Cariati Law, our top personal injury lawyers will handle your case for free – you pay nothing until we do. Contact one of our Toronto Personal Injury Lawyers at 905-629-8040 today!