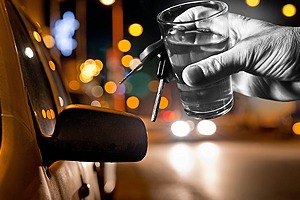 The Ontario Provincial Police launched its 11th annual Reduce Impaired Driving Everywhere (R.I.D.E) campaign last weekend, but unfortunately, the campaign is not headed in the direction many had hoped.
Last weekend alone, over 100 impaired driving charges were written to Ontario motorists. This alarming number sheds light to the severity of this growing epidemic and how dangerous Ontario roads have become. In comparison to last years impaired driving charges, numbers have increased from 1,218 in 2015 to 1,241 in 2016 thus far.
With Canada ranking the highest among prominent countries for road fatalities linked to drunk driving, effective and meaningful measures must be taken to put an end to this drunk driving.
To read more about this, click here.
Drunk driving is a criminal offense that not only jeopardizes your life, but also the lives of the occupants in your vehicle and motorists surrounding you. Not to mention, you could face ample jail time depending on the severity and nature of the accident. Don't put your life, the lives of others, and your future on the line by making this avoidable and heartless mistake.
If you know you will be drinking, plan an alternative method of getting home before consuming alcohol, such as:
Designating a sober driver. Plan this driver ahead of time. Consider alternating which friend will be the designated driver to create a functional and effective system.
Taking a cab, Uber or Lyft services. Within a few short minutes, you can have a ride waiting for you and your friends.
Public transportation. This is a cost-effective method allows a wide selection of time, type of transit and pick-up and drop-off locations.
Staying the night. If you are drinking at a friend's house, a safe option is to spend the night.
At Cariati Law, we deeply care about your safety. Please don't drink & drive this holiday season and let's all make it a safe and enjoyable one for everyone.
If you or a loved one is seriously injured in any type of vehicle accident, call Cariati Law at 905-629-8040. When you call, you will speak with an experienced Toronto Car Accident lawyer absolutely FREE.
At Cariati Law, we will investigate every detail of your car accident at no cost to you, and you owe us nothing unless we win your case. All cases are handled on a contingency fee basis, which means you pay us nothing up front.
Cariati Law – Passion Behind Every Case