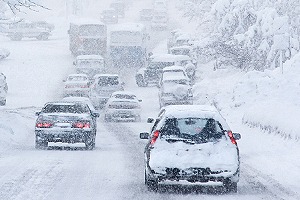 Heavy holiday travel and snowy or icy winter conditions can be a dangerous combination when it comes to staying safe behind the wheel. In December and January, automobile accidents increase by at least 3.1%, and insurance claims increase by almost 49%. While some accidents are unavoidable, you can do things in terms of cautious driving and vehicle maintenance to prevent some winter-related collisions.
Whether you're a new driver preparing to drive in the snow for the first time or a seasoned driver needing a quick refresher, the lawyers at Cariati Law have some vital winter driving tips for you.
7 Essential Winter Driving Safety Tips
When there's a snowstorm outside, it's best to stay home and avoid the roads at all costs. It's always better to avoid taking unnecessary risks by venturing out if it's not necessary. However, if you live in a province where winter weather is continuously covered by snow and ice, staying completely off the roads isn't realistic. Here are a few tips to keep you safe and secure on the roads this winter.
Ensure your tires are well inflated and have plenty of tread.
Keep Your Gas Tank Filled. A full tank of gas (or at least a half a tank) can help reduce moisture in the fuel system and add some extra weight to your car to slow it down.
Drive Slowly and Give Yourself Extra Time. Leave the house a bit earlier and adjust your speed to account for lower traction when driving on snow or ice.
Avoid Using Cruise Control. It's easier to lose control of your vehicle when driving on slippery surfaces such as ice and snow if you rely on cruise control.
Accelerate and Decelerate Slowly. It takes longer for vehicles to slow down on icy roads. Don't slam on your breaks, and always apply the gas slowly to regain traction and avoid skidding.
Maintain A Safe Distance Behind Snowplows. Snowplow drivers often struggle with visibility. If you find yourself behind a snowplow, it's essential to keep a safe distance. The plows can create clouds of snow that may reduce your visibility as well.
Clear Your Car of Ice & Snow. If you're planning a drive and it's windy, snowing, and freezing cold, make sure your car is cleared off to ensure the visibility from the driver's seat is clear. Brush off all the windows, the hood of your vehicle, and your taillights and headlights.
What to Keep in Your Winter Emergency Car Kit
Whether you run out of fuel, get a flat tire, or skid off a snowy road, emergencies can happen to anyone. We recommend always preparing for the worst-case scenario (especially in winter) by keeping the following supplies in the trunk of your car. Having a winter car emergency kit readily available can help get you back on the road safely and quickly.
Your winter safety kit should include items such as:
Blankets, gloves, heavy socks, and hats
Ice scraper and snow brush
Safety Vest
Booster Cables
Flashlight and extra batteries
Jumper cables
First-aid kit (including band-aids, adhesive tape, antiseptic wipes, gauze pads, and medical wrap).
Bottled water and non-perishable energy foods.
Multi-tool (such as a Swiss Army knife or Leatherman multi-tool)
Road flares or reflective warning triangles
Extra windshield wiper fluid
What To Do If You're In a Car Crash
We know accidents can be disorienting and scary, especially those in the winter. An accident can leave even the most seasoned driver frazzled. However, the steps you take immediately after an accident can be crucial to your case. So, it's best that you know ahead of time precisely what you need to do in a situation like this. Let's take a look at everything you need to know about what to do after a winter accident.
Step 1 – Put Safety First. The safety of everyone involved in an accident is always your primary concern. Check on the occupants of each car, then call for emergency assistance if needed. If the vehicles are drivable, get them off the road as soon as possible. If either cars are not able to be moved, ensure that is approaching vehicles can see you by turning your hazard lights or setting out road flares or warning triangles.
Step 2 – Call the Police. Suppose you don't need emergency services after an accident. In that case, you should call the police department's non-emergency telephone to guide you as to what to do next. Nevertheless, Canadian law requires that you call the police if:
There are any injuries, regardless if they are minor
Cyclists or pedestrians are involved
A government car or a car transporting hazardous materials is involved
Private, municipal, or highway property was damaged
You believe that the other driver involved in the accident broke the law, which includes driving under the influence of drugs or alcohol
Step 3- Gather and Exchange Necessary Information.
Once you've made those important calls to the authorities, you can take exchange any information you'll need for insurance purposes, which includes:
Full name and contact information
Insurance policy information and policy number
Driver's license
License plate number
Type, color, and model of the car
Location of the collision
Names and phone numbers of any witnesses
Additionally, use your phone to photograph essential details such as vehicle positions, debris, and landmarks, so you can build the most accurate description of what happened for your insurance company or any authorities that need to be involved.
Step 4 – Call Your Insurance Company and Start The Claims Process.
If you can, call your insurance agent while you're at the scene. That way, they can tell you precisely what they will need to process your claim. Whether you choose to file a claim or not is still up to you, but the insurance company will tell you what to expect during the claims process. You must submit a report within seven days. Your insurance company can deny your claim if you wait too long.
Call Cariati Law Today
After an auto accident, you need a lawyer who has the time, patience, and experience to help you make the right decisions. At Cariati Law, our legal services are on a contingency fee basis, meaning you pay no money unless we secure money for you. Call us today at 1-888-629-8040 to learn more.