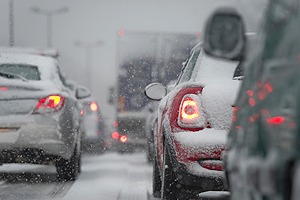 With Ontario facing the first major snowfall of the year, it's more important than ever to keep driving safety a top priority. Roads will be more dangerous with a heavy coating of slush and ice, and it can be difficult to see the road when the snow is falling.
Ontario Provincial Police want to encourage all Ontario residents be prepared to drive in this dangerous weather and get to their destinations as safely as possible.
Below are some driving safety tips recommended by the Ontario Provincial Police:
Give yourself ample time. Be mindful that your commute to and from work may take longer than usual. Avoid aggressive driving by giving yourself enough time to get to your destination. If you are running late, accept this and notify your boss, friends or family.
Inspect your vehicle. Ensure your vehicle is winter-weather ready by doing a full-inspection. Check your tires, windshield wipers and washer-fluid levels before you get in your vehicle.
Be prepared. In the event of an emergency, make sure you have all the necessary equipment- including an ice-scraper, snow brush, shovel, flashlight, batteries, booster cables and blankets. You may even want a few bottles of water.
Use common sense. Winter weather can be unpredictable and there's not always specific advice for each and every scenario. Use your best judgement and drive accordingly to the road conditions. If the road looks slushy, drive cautiously. If you're approaching a corner, slow down. If you're driving in traffic, give the vehicle in front of you enough space.
Ontario roads are going to be more congested than ever with residents finishing up their holiday shopping, visiting family and friends and making last-minute trips to the grocery store. Please keep these driving safety tips in mind and drive with the upmost care and attention.
To read more about this, click here.
To stay updated on the forecast, weather advisories and live updates, click here.
If you or a loved one are injured in any type of motor vehicle accident, call Cariati Law right away at 905-629-8040. When you call, you will speak with an experienced Toronto, Mississauga and Hamilton, Ontario Car Accident lawyer absolutely FREE. We will investigate every detail of your accident and fight to get you the full and fair compensation you deserve.
At Cariati Law, you will never pay a lawyer's fee up front, and you owe us nothing unless we recover for you. At Cariati Law, we don't get paid until you do.
Cariati Law – Passion Behind Every Case