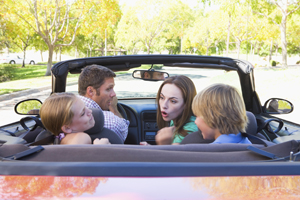 When Driving…make sure you're not a Distracted Driver.
Focus on the road when behind the wheel, not the passengers in your car.
In our fast paced world, between soccer, swimming and dance recitals, the pressure to be on time, can lead to a lack of focus or attention while driving our kids around. Try and give yourself an extra 15 minutes to tie shoes, comb hair, get fully dressed and fed, before you get on the road. This will help you, as a parent and driver of precious cargo, to be able to fully focus on the road and drive the speed limit and safely.
Many people today are guilty of being distracted drivers without really thinking about what they are doing on the road and how they may be endangering their own lives and other people's lives. Take time to get to where you need to go. Give yourself extra time. Be safe. Be aware.
When behind the wheel, you need your full attention to keep an ear and eye open for ambulance and police sirens, cautionary beeps or honks, construction slow downs and other obstacles on the road that could be dangerous.
Take a step back if you find yourself guilty of any of these bad habits. Be aware of your surroundings both inside and outside of the car and help make Mississauga and Toronto a safer place to drive.
The experienced lawyers at Cariati Law are here to help. If you or a loved one have been injured in a car accident, a slip & fall accident or any type of accident, call Cariati Law with offices in Toronto and Mississauga for a free, no obligation, confidential consultation at 905-629-8040. There is never a fee for our services unless we win for you. Our lawyers are committed to protecting your rights. When injured, Make One Call to Cariati Law.
Cariati Law, Passion Behind Every Case.