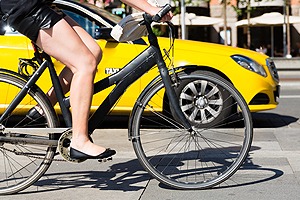 A cyclist was struck on his bike riding along Richmond Street this past week. The cyclist was riding in the designated bike lane, and was hit by a car making a right hand turn.
The cyclist warned the driver multiple times of his presence, explaining "she saw me in her rear-view mirror, I was ringing my bell," he said. "I thought, 'okay, I'm going through,' and then I was on the ground. I felt my bike shift under me. Why did she not stop?"
Luckily, the cyclist walked away with minor injuries.
Unfortunately, accidents like this happen far too often. Many motorists do not know the proper steps to take after getting into an accident with a cyclist. In Canada, the rules for car-on-cyclist collisions are almost identical to car-on car collisions.
To read the full article, click here.
At Cariati, we know how important it is to know your rights when injured in an accident. If you are a cyclist and have been involved in an accident with a motor vehicle here are some important steps to take:
Collect contact information from person at fault – the driver is required to give you their contact information even if no serious damages or injuries occur
Call 911 – it is critical to make sure the accident is filed; if there is damage worth over $2,000 involved or someone has been hurt, an incident report will help when filing an insurance claim.
Document Damages – make sure to take pictures from the accident documenting the damages, location of the vehicle, bike, etc.
If you or a loved one is seriously injured in a bicycle accident, call Cariati Law for help. Our Toronto bicycle accident lawyers have experience with these types of cases, and will work hard to protect your rights.
You can reach Cariati Law at 905-629-8040 for a FREE, confidential consultation. When you call, you will speak with an experienced Toronto Bicycle Accident lawyer for free. We will investigate every detail of your accident and fight hard to protect your rights.
At Cariati Law, you will never pay a lawyer's fee up front and you owe us nothing until we recover for you. That is the Cariati Law No Fee Promise.
Cariati Law – Passion Behind Every Case