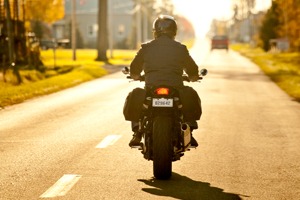 Riding a motorcycle can be one of the most freeing means of transportation, especially during the warm summer months. However, there is certain risks motorcyclist's face that other drivers do not. These added risks make it so important to share the road safely.
According to Transport Canada, the number of motorcycle fatalities has been steadily increasing year after year, due to an increase in motorcycles on the road. And there are many more motorcycle accidents in the summer months. So be careful out there, and watch out for motorcyclists.
Here are some safety tips for motorists to keep motorcyclists safe:
Keep a safe following distance – this will allow for a longer reaction time and could save the life of a motorcyclist.
Use proper turn signals to alert a motorcyclist – it is recommended to initiate your turn signal sooner than you normally would to allow a longer reaction time for a motorcycle that may be following you.
Double-check before changing lanes – because motorcycles are smaller than motor vehicles, they can become hidden in blind spots so double-checking your blind spots could prevent an accident.
Be aware of motorcyclist's traffic signals – since older motorcycles do not have self-cancelling turn signals, motorcyclists may forget to turn them off which could become confusing for motorists.
Avoid distractions – anything that causes you to take your eyes off the road should never be done while driving, especially not when a motorcyclist is around you on the road.
Obey all traffic signals – since many automobile and motorcycle accidents occur at intersections, it is important to follow all traffic signals and to drive defensively to prevent an accident.
Please help us make this July a safe and enjoyable month for all. Share the roads more safely and be conscious of all drivers, including those on two-wheels.
If you or a loved one is injured in a Motorcycle Accident, call Cariati Law for help. Our Toronto Motorcycle Accident Lawyers have experience with these types of cases and will work hard to protect your rights.
You can reach Cariati Law at 905-629-8040 for a FREE, confidential consultation. When you call, you will speak with an experienced Toronto Motorcycle Accident lawyer for free. At Cariati Law, you will never pay a lawyer's fee up front and you owe us nothing until we recover for you. That is the Cariati Law No Fee Promise.
Cariati Law – Passion Behind Every Case