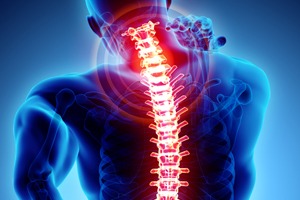 A spinal cord injury suffered after a diving accident has left a Toronto man hospitalized in serious condition. A detailed article on the accident appears here.
Beau Hayward—a 28-year-old man from Toronto—struck his head when he hit bottom while diving in a Sudbury lake. The impact shattered the man's C5 vertebra into six pieces, cracked his C4 and C6 vertebrae, and compressed his spine—all without puncturing or severing the spinal cord.
Two of Hayward's friends revived him after finding him floating in the water. He was rushed to a hospital in Sudbury, where surgeons removed all fragments of his fifth vertebra. He was later transferred to an acute-care hospital in Toronto. His family expects he will later be admitted to the Lyndhurst Centre—a prominent spinal cord and neurological rehabilitation facility.
Facing a Lengthy, Expensive Recovery
Hayward's sister says he shows improvement in feeling and movement—and she has established a GoFundMe page with a $75,000 goal to help cover his expected medical expenses. "Give back to Beau Ray Hayward" has collected over $19,000 in its first two days.
The entire staff of Cariati Law knows how such injuries can change lives forever. That is why we extend our deepest well-wishes to Hayward and his family during this difficult time. We continue to hope for his speedy recovery.
We're Here to Help
If you or a loved one has suffered any kind of Brain or Spinal Cord Injury, call Cariati Law at 905-629-8040 for help. When you call, you will speak with an experienced Toronto Personal Injury lawyer absolutely FREE. We will investigate your accident, handle all the paperwork, and manage your entire claim—so you can focus on your recovery.
At Cariati Law our top accident lawyers will investigate every detail of your accident for free. All cases are handled on a contingency fee basis, which means you pay us nothing up front. In fact, we only get paid after you do, and if there is no recovery, there is no lawyers fee.
Contact one of our Toronto serious injury lawyers at 905-629-8040 for help today.
Cariati Law – Passion Behind Every Case