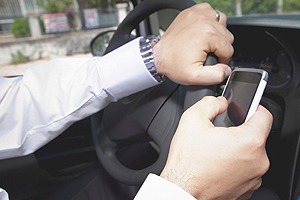 According to recent data released by the Ontario Police Department, Distracted Driving is now the leading cause of fatal car accidents in Ontario.
Distracted Driving is a major threat to the safety of motorists throughout Ontario. Operating a motor vehicle requires a driver's full and undivided attention at all times. Even a brief glance away from the road to answer a phone call or read an email can have devastating results.
Distracted Driving does not only refer to using a cell phone or mobile device behind the wheel. Distracted Driving simply means operating a vehicle while your mind, eyes or hands are doing something else. Other common forms of driver distraction include:
Texting & Driving
Drinking & Driving
Eating & Driving
Personal grooming, applying lipstick and looking in the rear view mirror
Reaching into a different part of the car
Adjusting the car radio, CD player or MP3 player
Reading a map or GPS device
Talking to passengers
In Ontario, it is illegal for drivers to make phone calls or send email or text messages from behind the wheel. Motorists who are caught driving while distracted, face harsh penalties, including fines and demerit points on their driver's license. Unfortunately, thousands of car accidents in Ontario happen due to Distracted Driving.
At Cariati Law, our Toronto Car Accident lawyers want to help bring awareness and attention to this important safety issue. If you have questions about Distracted Driving, or if you or a loved was injured in an accident caused by a distracted driver, call Cariati Law at 905-629-8040.
When you call, you will speak with an experienced Toronto Car Accident lawyer absolutely FREE. We will investigate every detail of your situation and fight to ensure that your rights are protected. At Cariati Law, you will never pay a lawyer's fee up front. In fact, you owe us nothing unless we recover for you. Helping injured people throughout Toronto, Mississauga, and Hamilton, Ontario.
At Cariati Law, we don't get paid until you do.
Cariati Law – Passion Behind Every Case