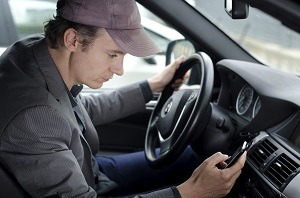 Imagine you are driving to work when out of nowhere, CRASH, you have just been struck by another vehicle. As it turns out, the other driver was checking his text messages on his phone and took his eyes off the road.
Distracted driving accidents cause serious injury, hundreds of thousands of dollars in property damage annually and in some cases, death.
Distracted driving accidents are all too common in the Toronto area, and the personal injury lawyers at Cariati Law have represented many victims in these types of claims. These are preventable accidents, if drivers would obey the rules of the road and follow the necessary safety precautions while driving.
There are three main types of distractions while driving, including:
–          Visual: taking your eyes off the road
–          Manual: taking your hands off the wheel
–          Cognitive: taking your mind off the task of driving.
The Canadian Automobile Association (CAA) reports that drivers who are engaged in the following distractions are more likely to be in a crash or near crash event compared to non-distracted drivers.
–          Texting on cell phone – 23 times more likely
–          Talking on cell phone – 4 to 5 times more likely
–          Reading – 3 times more likely
–          Applying makeup – 3 times more likely
–          Reaching for moving object – 9 times more likely
–          Dialing phone – 3 times more likely
According to the Ministry of Transportation, Ontario's ban on hand-held devices while driving took effect on October 26, 2009. If caught breaking the law, drivers are subjected to ticketing and a possible fine up to $280.00.
Distracted driving statistics in Ontario are astounding. The CCA and Ministry of Transportation report the following:
–          80% of collisions and 65% of near crashes have some form of driver inattention as contributing            factors.
–          Distracted drivers are 3x more likely to be in a crash than attentive drivers.
–          Economic losses caused by traffic collision-related health care costs and lost productivity are at            least $10 billion annually. That's about 1% of Canada's GDP.
–          International research shows that 20% to 30% of all collisions involve driver distraction.
The car accident lawyers at Cariati Law are passionate about educating the public on distracted driving laws. Cariati Law, Toronto car accident law firm represents seriously injured children, individuals and family members who are victims of the negligent acts of others.
If you or a loved one has been injured in an accident, call Cariati Law Personal Injury lawyers so that we can represent you in your time of need. We'll answer all of your questions and never charge anything up front. We only get paid, when you do.
If we take your case, we will investigate your situation at no cost to you. We will investigate to figure out what happened, and if someone was at fault, we will take the necessary measures to seek justice and compensation for you and your family.
Call Cariati Law, Toronto car accident lawyers for a FREE, no obligation, and confidential consultation at 905-629-8040.
Cariati Law, Toronto Injury & Disability lawyers announce our No Fee Promise- meaning you owe us nothing unless we win your case. When injured, make one call to Cariati Law.
Cariati Law, passion behind every case.