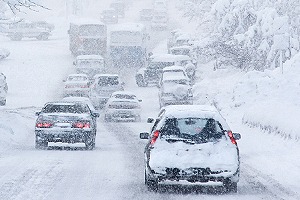 What Months Have the Most Car Accidents in Ontario?
There are way too many car accidents on Canadian roads. The good news is, there are multiple things drivers can do together to ensure our roads are safer during the winter months.
According to a recent Allstate Canada 2017 Safe Driving Study, collisions are on the rise across Canada. The study shows an overall increase of 2.5% in accident frequency since the previous period studied. The study also showed that the months with the highest number of car accidents were December, January and February. These next upcoming months will be the most dangerous.
With the harsh winter weather, distracted driving, drunk driving during the holidays and icy conditions, it's no wonder why the winter season is the most hazardous.
Over the past five years, the day of the year with the highest number of collisions in Ontario is February 12. Ontario was the only province to report an overall increase in its collision frequency rate, which is up 4.7% since last year.
To read the full story click here.
Winter Driving Safety Tips

The Ontario Provincial Police (OPP) is reminding motorists to take their time to prepare themselves and their vehicles for safe winter driving as we head into the winter months.
Here are some tips on how you can stay safer during the most dangerous driving season:
Avoid using cruise control on slippery roads
Figure out the best way to recover from a skid for your specific vehicle
Slow down and make sure to give yourself extra travel time
Check the weather and road conditions before you get on the road
Keep a safe distance behind snow plows
At Cariati Law, we deeply care about your safety.
If you or a loved one is seriously injured in any type of motor vehicle accident, call Cariati Law at 905-629-8040 for help. When you call, you will speak with an experienced Toronto Car Accident lawyer absolutely FREE. We will investigate your accident, handle all of the paperwork, manage your entire claim so you can focus on your recovery.
At Cariati Law our top car accident lawyers will investigate every detail of your car accident for free. All cases are handled on a contingency fee basis, which means you pay us nothing up front. In fact, we only get paid after you do, and if there is no recovery, there is no lawyers fee.
Cariati Law – Passion Behind Every Case