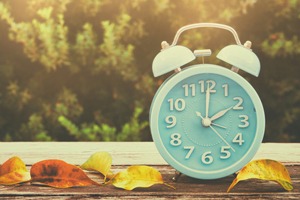 At 2:00 AM this Sunday, Daylight Saving Time ends. It is time to "fall back" an hour as daylight saving comes to an end. Remember to set your clocks back before heading to bed this Saturday in order to gain back an hour of sleep.
Thankfully a majority of our smartphones, computers and DVRs will change automatically, but some clocks will need to changed manually.
This is also a great time to make sure all of your smoke detectors are working properly in order to make sure you stay safe this fall as colder temperatures roll in and families start snuggling up by the fire.
We are reminded that this time change effects more driving when it is darker, drowsy driving and an increase in car accidents. Here are some important safety tips to remember for the days ahead:
Make Sure You are Prepared for Nighttime Driving – make sure your car lights are clean and working to ensure you can be seen on the road.
Be Aware of Animals on the Road – Deer and other animals are active at night, it is important to be aware of your surroundings when driving to and from work since it will start to get darker earlier.
Rest Up – make sure you are well rested and get the extra hour of sleep this weekend to prepare yourself for this time change.
Remember to adjust your clocks this Saturday night to ensure your safety on and off the road.
If you or a loved one is seriously injured in a motor vehicle accident that was not your fault, call Cariati Law at 289-807-5165 for help. When you call, you will speak with an experienced Toronto Car Accident lawyer absolutely FREE.
At Cariati Law, we will investigate every detail of your car accident at no cost to you, and you owe us nothing until we win your case. All cases are handled on a contingency fee basis, which means you pay us nothing up front.
 Cariati Law – Passion Behind Every Case