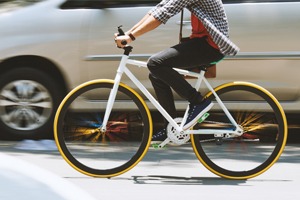 On Wednesday, members of the General Committee endorsed the 2018 Cycling Master Plan.
This is an important step because bicycle riding is on the rise in Canada and has doubled in Mississauga since 2011.
Recent Ministry of Transportation surveys of road users suggest that about 1.2 million adults in Ontario ride a bicycle daily and 2.8 million ride at least once a week during the warmer months.
The updated Cycling Master Plan tackles key areas:
The cycling network must be safe, connected, convenient and comfortable for residents, and visitors of all ages and riding ability
Implementation of new cycling infrastructure will be coordinated with road rehabilitation and major road construction projects, where possible
Through the 2019 Budget process, approval for $5.3M in annual funding will be requested to fund the proposed Cycling Master Plan.
To learn more about the Cycling Master Plan, click here.
The cycling network laid out in the Cycling Master Plan will result in 897 kilometres of infrastructure to be built over 27 years.
This includes:
Cycle tracks where a bicycle lane is physically separated from the road by a curb and is either at sidewalk level or slightly lower, reserved for bicycles only
Bicycle lanes separated from traffic lanes by flexible posts, planters, parking stalls, curbs or other barriers, reserved for bicycles only
Bicycle lanes where cyclists travel in a lane beside regular traffic lanes, reserved for bicycles only
Multi-use trails along boulevards and also through parks
Shared routes between cyclists and motorists on roads with lower speeds
Cycling is so important because it generates a wide range of health, environmental and social benefits. And, because so many citizens of Ontario cycle, we need to make sure our infrastructure is safe and beneficial for them.
If you or a loved one has been injured or died in a bicycle accident, contact Cariati Law, so that we can represent you in your time of need. We'll speak with you for free and fight to get you the compensation that you deserve. The Toronto bicycle accident injury lawyers at Cariati Law are experienced in handling claims involving bicyclists.
The injury and disability lawyers of Cariati Law help children, individuals and families get through the legal process after being injured or suffering death from a bicycle accident. When hurt in a bicycle accident, injured in a slip and fall, victim to a medical mistake or any other type of accident, call Cariati Law to speak with an experienced Toronto, Mississauga and Hamilton bicycle accident injury lawyer for FREE. We'll make sure that your rights are protected.
Cariati Law, passion behind every case.