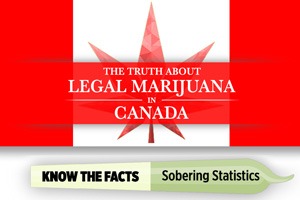 In October 2018, recreational cannabis use became legal across Canada—currently only the second country to legalize recreational marijuana nationwide. While legalization has gone national, some activities—including impaired driving—remain prohibited. For many, this has raised numerous questions regarding usage, impaired driving, and legal enforcement.
To address these questions—and help reinforce the message of safe, sober driving—Cariati Law has published a free, informative infographic—The Truth About Legal Marijuana in Canada—to keep citizens informed of both their rights and their responsibilities.
null
Legal Limits
Currently, the established legal limit for Tetrahydrocannabinol (THC)—the active ingredient in marijuana—is five nanograms per millilitre of blood (5 ng/ml). Studies show the concentration of THC in the blood can drop 60% just 15 minutes after using marijuana. In some cases, edible cannabis may not raise blood concentrations above the limit of five ng/ml.
Important Facts
Cannabis—even strains prescribed for medicinal use—can impair individuals differently. The type and severity of those effects can depend on a number of factors—including the method of consumption, quantity of product, variety or strain, and product strength. For motorists; it is important to note cannabis can affect motor skills, slow reaction times, impair short-term memory, and limit a user's concentration—severely reducing the ability to make quick decisions behind the wheel.
The Bottom Line
With recreational cannabis now legal in Canada, users must know the risks and consequences of impaired driving. Always drive responsibly—and don't become a statistic. Cariati Law reminds all Canadian citizens to stay safe and sober behind the wheel—for the safety of everyone on the road.
We Can Help
If you or a loved one has been injured in a car accident through no fault of your own, call Cariati Law at 905-629-8040 for help. When you call, you will speak with an experienced Toronto Car Accident Lawyer absolutely FREE. We will investigate your case, handle all the paperwork, and manage your entire claim—so you can focus on your recovery.
At Cariati Law our top Car Accident Lawyers will investigate every detail of your case for free. All cases are handled on a contingency fee basis, which means you pay us nothing up front. In fact, we only get paid after you do—and if there is no recovery, there is no lawyers fee.
Contact one of our Toronto Car Accident Lawyers at 905-629-8040 for help today.
Cariati Law – Passion Behind Every Case