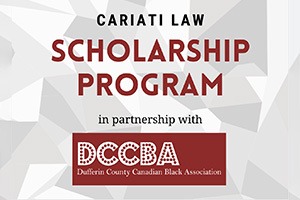 Cariati Law is pleased to announce our scholarship program to support high school and undergraduate students in Ontario. As personal injury lawyers, we work with individuals who have suffered from the physical and emotional effects of car accidents involving texting and driving. One of the big ways that we raise awareness is through this scholarship program, which aims to educate young drivers about the dangers of texting and driving. We also take great satisfaction knowing we've helped some very deserving students pay for their higher education. Now we want to hear your story for a chance to receive one of two $500 scholarships!
Eligibility Criteria
The program is open to students currently enrolled in an accredited college or university in either one of the ten Canadian provinces or three territories. You must be a legal resident of Canada and attend a public school, accredited private school, or homeschool in compliance with its province or territory laws. Employees of Cariati Law and members of their immediate families living in the same household, their parents, subsidiaries, affiliates, and their advertising, promotion, and production agencies, are not eligible to enter.
Application Requirements and Deadline
Applicants must submit a 750-word essay on Texting and Driving. In your essay, you may answer the following questions:
Do you text & drive? Do your friends text & drive? Do you know anyone that has been seriously injured due to texting & driving? What do you believe you can do to help prevent people from using their mobile devices when driving? Can you think of what would be an effective method to deter teenagers and adults from this dangerous and reckless behavior?
You can apply online here or email submissions to info@dufferincountycba.org no later than May 17st, 2021.
Only entries submitted in this format will be considered.
Include – First Name, Last Name, Academic Standing as of Spring '21, Current School and Major.
Submit your essay in a Microsoft Word Document
Must be 750 words, typed, double-spaced, using standard margins
We look forward to receiving your application and reading about your stories!