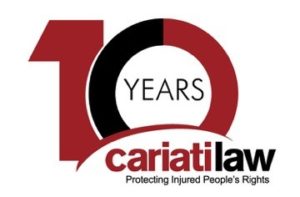 Cariati Law is celebrating our 10 year anniversary as one of the leading personal injury law firms representing the rights of individuals and families throughout Ontario!
Our passion and motivation for helping injured people has remained constant since our doors opened in 2006. Every day, our lawyers and staff come to work ready to fight hard on behalf of people that have been injured due to someone else's negligence or individuals who have been denied long term disability insurance benefits, or life insurance claim benefits.
Our lawyers have almost 70 years of combined experience in the courtroom and at the negotiating table. We put the full weight of our passion and experience behind every case because we truly and deeply care about helping our clients find the best resolution possible during times of tragedy and hardship.
Whether their injuries are due to a motor vehicle accident, slip & fall, nursing home abuse, or any other type of accident, our clients trust Cariati Law to provide dedicated legal representation in their time of need. For the last 10 years, hundreds of clients have placed their trust in us, and we have been honored to help them secure the justice they deserve.
"Thank you to all of the clients, friends, neighbors and colleagues that have placed their faith and trust in Cariati Law these past 10 years. We are committed to continue our fight to protect the rights of injured people in Ontario. At Cariati Law, we pledge to put passion behind every case."
– Lawyer and Founding Partner Mario Cariati
If you or a loved one are injured in any type of accident, have a family member involved in a wrongful death, or are being denied Long-Term Disability Insurance Benefits from an insurance company, call us for help.
We're experienced Ontario Injury lawyers. Call Cariati Law today at 905-629-8040. When you call, you will speak with one of our compassionate, dedicated lawyers absolutely FREE.
You will never pay a lawyer's fee up front, and you owe us nothing unless we recover for you. That is the Cariati Law No Fee Promise! We're here to work hard for you and to make sure that your rights are fully protected.
Call today to learn how Cariati Law can help.
Cariati Law – Passion Behind Every Case