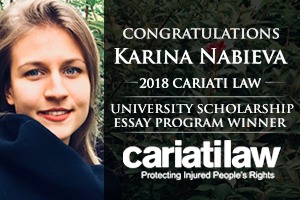 The staff at Cariati Law enjoys any opportunity to help students in our community succeed. For 2018, the Cariati Law College Scholarship Essay Program accepted submissions from all current or prospective undergraduate students studying at an accredited university.
This year, our winner took home a $1,000 scholarship—which they can put toward their tuition to pursue their chosen field of study at an accredited institution in Canada. This year's topic asked:
"Do you text and drive? Do your friends text and drive? Do you know anyone that has been seriously injured due to texting and driving? What can you do to help prevent people from using their mobile devices when driving? Can you think of what would be an effective method to deter teenagers and adults from this dangerous and reckless behavior?"
This Year's Winner
The winner of the Cariati Law 2018 College Scholarship Essay Program is Karina Nabieva. Ms. Nabieva is a third-year student at McMaster University—a public research university in Hamilton, Ontario. She has a passion for learning new languages, teaching, and innovation—and is always looking for opportunities to practice her French, mentor a student, and propose creative ideas that enhance our communities.
In her thoughtful essay, Ms. Nabieva examined the effects of technology on our daily lives—and took the opportunity to explore innovative solutions she hopes will dramatically curb instances of distracted driving in the foreseeable future.
Everyone at Cariati Law is pleased to offer Karina our most sincere congratulations. We know she will put this scholarship to the best use possible.
Thank You to Every Applicant
The staff of Cariati Law would like to give our thanks to every applicant who submitted essays this year. Considering your engaging and informative submissions, know you all have bright futures.
About Cariati Law 
Cariati Law is an Ontario personal injury law firm serving Mississauga, Toronto, and Hamilton to help those individuals and families who are injured by the negligence of others. The disability and personal injury lawyers at Cariati Law—as well as our experienced legal staff—will help you through the legal process in the most caring, professional manner possible. We are committed to protecting your rights—and will fight to secure the fair and just compensation you and your family deserve. Call Cariati Law for a FREE, no obligation, confidential consultation at 289-807-5165.