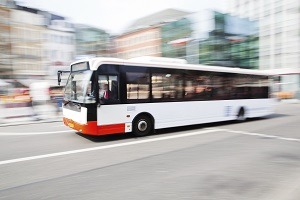 Bus accidents are common in Canada, particularly with metro buses. On average across the country, one metro bus accident occurs every 2,151 hours.  The most common causes of bus accidents include; driver fatigue, driver impairment, vehicle condition, inattention and road conditions.
Sharing the road with commercial busses can be dangerous.  As a driver of a passenger vehicle, or a pedestrian in a city, you must constantly be alert and prepared.  Unfortunately, mistakes happen and tragedy can easily strike any individual or family member when a bus accident occurs.
Tragedy has stuck the Quebec, Canada community with the horrific bus accident which took place this past Friday at 7:30 a.m. on Interstate 87 in North Hudson, NY, about 200 km south of Montreal.
The commercial tour bus, owned by Fleur de Lys bus company and operated by Quebec-city based JaimonVoyage.com, was traveling to New York City for a three-day tour when it rolled over carrying 56 passengers, including the bus driver.
Sixteen year old Chelssy Mercier was traveling with her mother and was ejected from the bus during the roll over. While witnesses, police, and emergency workers worked tirelessly to remove her from under the bus where she was half pinned, and subsequently revive her, she tragically succumbed to her injuries at the scene. While Mercier is the only fatality of the crash, forty-one people suffered minor injuries, ten were seriously hurt, and three were in critical condition, according to police. The injured were taken to several area hospitals for treatment.
The cause of the accident is still under investigation and the driver will undergo a blood test to determine sobriety or other medical conditions which may have contributed to the accident. The 61 year old male driver is said to have 30 years' experience and has been inspected three times in the past year, passing each time.
A case involving a commercial bus is not simply a big car accident.  They are highly complex cases that involve state, federal and sometimes international regulations, which require a lawyer with extensive experience in this area.
A bus accident lawyer from Cariati Law, injury and disability lawyers can help you achieve the justice you deserve.  Each and every lawyer at Cariati Law is innovative, aggressive and result-oriented when serving the diverse legal needs of our clients.  Our lawyers are committed to protecting you rights.
Call Cariati Law for a FREE, no obligation, confidential consultation at 905.629.8040. Cariati Law, Ontario, Canada injury & disability lawyers announce our No Fee Promise- meaning you owe us nothing unless we win your case. When injured, make one call to Cariati Law.
Cariati Law, passion behind every case.