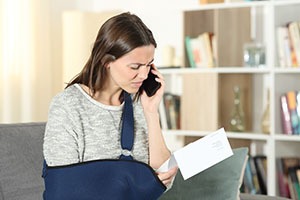 Long Term Disability Insurance is intended to help protect you and your family by providing benefits that supplement your loss of income. Many injured or sick Canadians depend on these insurance benefits to help pay for medical bills, expensive home care, and regular living expenses.
Suppose you applied for long-term disability benefits and your insurance company denied your claim. In that case, you may be wondering what options are available to you to fight the denial of your benefits.
LTD Claim Denials are Common
Canadian long term disability policyholders suffer some of the highest rejection rates in the world. Whether the insurance company approves or denies your request for benefits is highly subjective and often based on the policy's wording and the company's interpretation of some key terms. Some of the most common reasons that LTD benefits are denied include:
Failing to complete correctly or missing information in the disability application.
Failing to apply on time.
Your disability or injury does not stop you from doing certain parts of your job or from doing other jobs.
Details of your medical condition were deemed insufficient to prove your disability or injury.
Conflicting information between your doctor's medical records and independent medical reports conducted by the insurance company.
Can I Appeal A Denial For Long-Term Disability Benefits?
Since LTD denials are so common, it's not unusual for people to fight those decisions. Generally, whether you have a group benefits policy or a private policy, you'll either have to appeal the denial or start a lawsuit against the insurance company.
An appeal is the insurance company's internal process for deciding if they want to reverse their own decision to deny you benefits. It is not a review of the decision by a neutral third party. On the other hand, starting a lawsuit, "external appeal" or "court action" tells the insurer that you do not accept their decision, and you want to let a court decide whether you are entitled to benefits.
Should you file an internal appeal first or skip that step and begin with the external appeal or lawsuit? The honest answer here is that there no single solution that works for every individual. Which option to fight for benefits is best can be determined by several factors, including the reason for the denial, time limitations, and if the evidence is available to refute the denial. Suppose you are still uncertain whether you should appeal or pursue legal action. In that case, it is best to speak with an experienced long-term disability lawyer for advice.
How Can A Disability Lawyer Assist with a Long-Term Disability Appeal?
If you are looking to file an internal or external appeal, or if your claim is complicated and continuing to deal with the insurance company is taking a toll on your health, consulting with an LTD lawyer can help. Lawyers who specialize in long-term disability know what information the insurance company needs and how to present that evidence persuasively can increase the odds of a successful appeal while also allowing you to focus on your health and recovery.
Contact the Ontario LTD Lawyers at Cariati Law
At Cariati Law, our lawyers have the skills and the depth of understanding necessary to advise you on how to proceed and can take the stress of managing an appeal so that you can focus on your recovery. Our top Disability lawyers will review your case and provide an initial consultation FREE of charge. Contact one of our experienced Toronto Disability Lawyers at 905-629-8040 today.