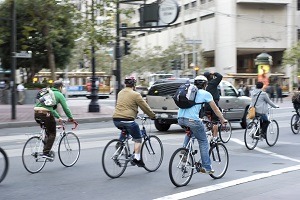 Just because summer is over doesn't mean cycling season has finished. There are plenty of weeks left to take to the roads on a bicycle, be it for recreation or transportation to work. It is very important to follow the rules of the road while cycling, as bicycles on the roadways are, by law, vehicles with the same rights and responsibilities as motorized vehicles.
Cariati Law would like everyone to have a safe and happy autumn, and suggest following these tips when out on a bike ride.
– Wear a helmet. Toronto law does not require adults over 18 to wear a helmet, but that doesn't mean it isn't a good idea. Wearing a helmet can decrease your risk of serious injury by as much as 85%.
– Make sure you are well lit when riding. This means having all the required reflectors. Use a head light, especially if you are traveling at night.
– Only ride with one person per bicycle.
– Avoid accidents and tickets by following the law by always riding on the right side of the road and never against traffic, always with traffic.
– Plan your ride route ahead of time, especially if you are riding with a group of people. Make a plan for what you will do if members of the group get separated by traffic.
– Avoid busy streets and peak traffic times whenever possible.
– Use hand gestures that coordinate with turning signals. You are more visible to a driver if you wave your hands. This is particularly important when making a left hand turn.
– Store your bicycle inside away from the elements and inclement weather conditions whenever possible. Keep chains clean and oiled, and inspect your brakes and tire pressure often.
The lawyers at Cariati Law are dedicated to educating the public on bicycle safety. The Toronto personal injury lawyers at  Cariati Law represent people who are seriously in bicycle accidents.
If you or a loved one has been injured in a bicycle accident, call Cariati Law Personal Injury lawyers so that we can represent you in your time of need. We'll answer all of your questions and never charge anything up front. We only get paid, when you do.
If we take your case, we will investigate your situation at no cost to you. We will investigate what happened, and if someone was at fault, we will take the necessary measures to seek compensation for you and your family
Call Cariati Law, Toronto personal injury lawyers for a FREE, no obligation, confidential consultation at 905-629-8040.
Cariati Law, Toronto Injury & Disability lawyers announce our No Fee Promise- meaning you owe us nothing unless we win your case. When injured, make one call to Cariati Law.
Cariati Law, passion behind every case.