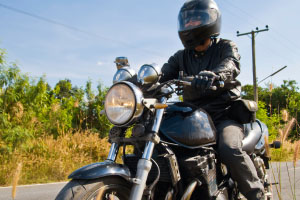 Motorcycles have become a symbol of the free spirit in Western civilization.  The film "The Great Escape" depicts Steve McQueen memorably racing to freedom on his Triumph motorcycle.  The roar of the engine, the wind blowing in your hair, and the desire to see where the road ahead takes you; these feelings and more represent the motivation for a person to saddle up on a bike.  Since then, the motorcycle industry has grown exponentially, and unfortunately so have motorcycle accident statistics.
Since May is Motorcycle Safety Awareness Month, Cariati Law would share some good safety tips.  Ride safely and be sure to protect yourself from unnecessary head injuries with long-lasting consequences.
The motorcycle lifestyle is about the "religion" of freedom and independence.  However, "freedom" can be turn into "danger", when bikers are involved in accidents without helmets.
Every motorcycle enthusiast has heard the warnings.  In the U.S., the National Highway Traffic Safety Administration reports that motorcyclists are more than 5 ½  times more likely to get into a fatal accident per 100,000 vehicles than automobile drivers, and the U.K. reports that rate even higher at 16  times more likely per 100 million vehicle kilometers.
The most recent statistics available are from the Canadian Council of Motor Transport Administrators.  They show:
The number of fatalities has fallen from 226 in 2007 to 168 in 2011
The number of licensed motorcyclists in Canada has risen from 522,000 to 682,000.
10.6% of Canadian riders suffered from serious injuries in 2011.
If You Ride a Bike in Canada, You Must Wear a Helmet!
If you're a rider, you know that helmets are required in all Canadian provinces, Ontario included.  The wrong type of helmet could still cost you though, so make sure you know the specific laws in your province.  After all, Motorcycle rules and regulations exist to protect riders.
One factor in selecting the proper helmet, besides size, fit, or, style, is certification.  One thing to know is that Canada has eliminated the Canada-specific standard – Standard CAN-3-D230 of the Canadian Standards Association – and now adheres to U.S. and industry certifications.  The helmet you purchase for use must be certified under one of the following (for specifics on helmet specs, click here):
U.S. DOT certification based on FMVSS 218
SNELL M2010 certification
ECE Regulation 22.05 certification
In other words, beware when buying "bucket" helmets that do not cover the ears, back of the head, or chin area, or at least offer a chin strap.  They may not meet these standards and may be subject to ticketing and fines, in addition to offering insufficient protection.  Check all helmet purchases to make sure that they meet the required safety standards.
Here are some Important Riding Tips That may Save Your Life.
Wear a Certified Helmet at all times
Wear the appropriate riding gear; leather jackets and long, thick pants protect your skin from surface abrasions in case of an accident
Wear brightly colored clothes that are visible at night
Make sure that your headlights work, as many accidents are due to other's inability to see the cyclist
Don't drink or do drugs while operating a motorcycle, as they are the primary factors in many motorcycle accidents and serious injuries
Make sure your bike is properly maintained to keep it in the safest condition
Obey traffic laws, speed limits and street signs at all times
For more information regarding Motorcycle Safety and Biking Rights please visit our Motorcycle Accident Page.
If you or a loved one has been seriously injured ina motorcycle accident or in any type of traffic accident call Cariati Law, the Toronto Personal Injury Law Firm. We're experienced lawyers and are here to help. You can call for a free confidential consultation at 905-629-8040. An experienced lawyer will review your situation at no cost to you. We represent victims and their families in serious injury and wrongful death cases.