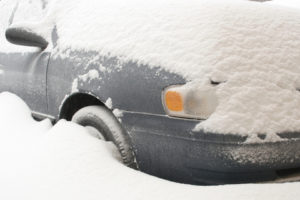 Every winter severe winter weather conditions cause several people to end up stranded in their cars for extended periods of time. It is important for everyone who must drive in winter weather to have an emergency kit in their car to help keep them safe if they must wait for rescue to arrive.
Winter emergency kits can help you stay warm, call for help, and stay nourished if you are trapped in your car. In a dangerous situation, an emergency kit can sometimes make the difference between life and death.
Winter Car Emergency Kit Fundamentals:
Nonperishable food Items such as protein bars and granola.
Water in plastic bottles. Never use glass bottles that can shatter in freezing temperatures.
Extra clothing to keep you warm, including fresh socks and boots. In freezing conditions layering is always a good idea, it traps your body heat without causing you to sweat.
Blankets, including an emergency foil blanket that you can buy at most outdoor supply stores
Emergency chemical heat packs
Tools such as a small shovel and a flashlight
A whistle that can help alert others to your location
Roadmaps to help you pinpoint your location to potential rescuers
Candles, matches, and a wind up flashlight (that does not require batteries) to increase visibility
It is also a good idea to store kitty litter or sand in your trunk. These materials can help increase your tires traction if you are ever stuck in a snowy or icy spot. Road salt is also valuable if you find yourself trapped on a patch of ice.
Keeping these items in your car will help improve your chances for a quick and safe rescue if you are stranded in severe winter weather.
The experienced lawyers at Cariati Law are here to help. If you or a loved one have been injured in any type of accident, call Cariati Law with offices in Toronto and Mississauga for a free, no obligation, confidential consultation at 289 807 5165. There is never a fee for ours services unless we win for you. Our lawyers are committed to protecting your rights. When injured, make one call to Cariati Law.
Cariati Law, Passion Behind Every Case.