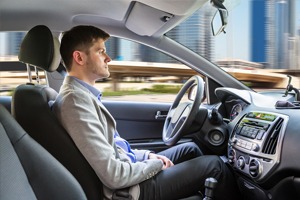 The likelihood of highways becoming populated by fully autonomous vehicles is not as far away as most people once thought. Vehicle manufacturers, tech companies, and entrepreneurs fully expect fully autonomous cars will become commonplace within the next generation.
Closer to today, a number of sources related to the subject now suggest there will be more than 50,000 autonomous vehicles operating on roadways worldwide within the next few years.
Emerging Technology, Changing Tactics
With autonomous vehicles coming ever closer to the forefront, the way we deal with insurance companies, accident claims, and personal injury matters must also evolve to keep pace. Motor vehicle collision litigation must change how it addresses issues of fault and liability in the face of new technology. The introduction of self-driving cars will surely complicate liability arguments—as the human driver is further removed from the equation.
Doubts Remain
As we reported in an earlier blog, Uber has recently resumed the testing of autonomous vehicles in the city of Toronto. The company also plans to resume autonomous driving services in Pittsburgh, Pennsylvania—as well as manual driving services in San Francisco, California.
Autonomous vehicle testing was originally suspended following a March 2018 accident in which one of Uber's self-driving vehicles struck and killed an American pedestrian in Arizona. That fatal incident marked the first documented case of a self-driving car killing a pedestrian. What followed was intense scrutiny of the company's safety precautions and technology protocols.
Future Concerns
Questions regarding who is to blame—and who must pay—will soon become far more difficult to answer. While New Zealand and Great Britain have taken an international lead regarding the regulation of autonomous vehicles, Canadian laws—including laws to limit data collection and protect vehicle operators—must remain current as self-driving cars grow increasingly common.
We Can Help
If you or a loved one has been injured in a car accident through no fault of your own, call Cariati Law at 905-629-8040 for help. When you call, you will speak with an experienced Toronto Car Accident Lawyer absolutely FREE. We will investigate your case, handle all the paperwork, and manage your entire claim—so you can focus on your recovery.
At Cariati Law our top Car Accident Lawyers will investigate every detail of your case for free. All cases are handled on a contingency fee basis, which means you pay us nothing up front. In fact, we only get paid after you do—and if there is no recovery, there is no lawyers fee.
Contact one of our Toronto Car Accident Lawyers at 905-629-8040 for help today.
Cariati Law – Passion Behind Every Case