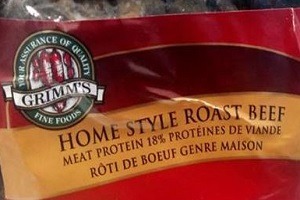 The Canadian Food Inspection Agency is warning consumers that lunch meat products sold in markets in Ontario and across Canada may be contaminated with the dangerous bacteria Listeria monocytogenes. Authorities have issued a recall of all Grimm's Fine Food brand Home Style Roast Beef products. Any consumers that have purchased this product beginning on July 3rd, 2015, are advised to throw the food away immediately.
Listeria monocytogenes is an extremely dangerous strain of bacteria that can cause serious health risks. While food contaminated with the bacteria may not immediately smell or look spoiled, it can still make victims extremely ill. When ingested by otherwise healthy adults, Listeria can cause the following symptoms:
Nausea
Persistent Fever
Muscle Aches
Severe Headaches
Neck Stiffness
Other Flu-like Symptoms
In healthy adults, these gastro-intestinal symptoms will generally last for a short period and often do not require emergency medical attention. However, children, older adults, pregnant women and anyone with a compromised immune system may be susceptible to a much more dangerous situation if exposed to the bacteria. In these populations, Listeria can also lead to a serious condition known as Listeriosis, symptoms of which can include:
Meningitis
Brain Swelling
Brain Abscesses
Stillbirth in Pregnant Women
Death
Thankfully, this recall was instituted following routine Canadian Food Inspection Agency (CFIA) inspection activities, and no illnesses or deaths have been linked to the contamination at this point. The CFIA investigation is still ongoing, and the agency will notify the public if any other high-risk products are recalled.
The Grimm's Fine Food Home Style Roast Beef may have been sold in markets throughout Ontario both at the deli counter without specific label or coding, or in pre-packaged containers. Consumers that purchased roast beef from behind the deli counter of their local market have been advised to ask a representative if they may have purchased Grimm's Fine Foods Home Style Roast Beef within the last two weeks. If you encounter this product, the CFIA has advised that you throw it away immediately.
Food manufacturers have a responsibility to ensure that their products are safe, healthy, and acceptable to be sold to the general public. When manufactures fail to live up to this standard and sell products that are contaminated or unsafe, they must be held responsible for their actions.
At Cariati Law, we work hard to protect the rights of consumers and vigorously pursue damages against companies that sell defective products to their customers that result in injury or death.
Call Cariati Law today at 905.629.8040 to receive a FREE consultation with one of our experienced Personal Injury and Product Liability lawyers. At Cariati Law, we take the time to understand your case on a personal level so that we can determine the best course of action to achieve the justice you deserve.
If you or a loved one has been affected by this CFIA recall, or been injured by any other defective product, call us right away. We will help provide the answers you seek.
Cariati Law – Passion Behind Every Case