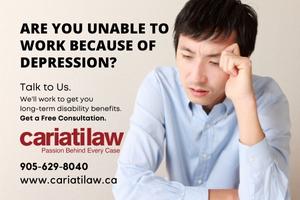 Depression is a severe mood disorder that affects more than 5% of Canadians. It's associated with ongoing and persistent feelings of sadness or loss of interest. Major depressive disorder, also known as "depression," can impact a person's ability to work, have healthy relationships, and live a happy life.
In Ontario, mental health disorders are the most common long-term disability claims. Because "depression" is an invisible disability, many employers do not understand the severity of this condition and its effects on a worker. Disabled workers have rights in Ontario.
If you are struggling with severe depression and cannot work and be productive, call Cariati Law to speak with a long-term disability lawyer. Even if your long-term disability benefits have been denied, we may be able to help.
Often LTD benefits are denied by insurance companies for many reasons. Our experienced disability lawyers understand the process, will review your situation at no cost and will fight to get you the disability benefits you need.
Just call us at 905-629-8040 for a free consultation. We'll answer all your questions and let you know if we can help.