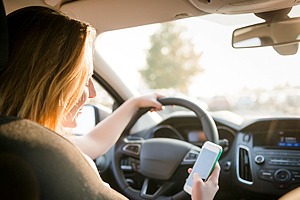 Texting and driving is a serious issue on Ontario roads. It is illegal to drive distracted in Canada and will result in hefty fines. Whether someone is texting, checking email, changing music or talking and looking around, distracted driving can become deadly in a split second.
April is Distracted Driving Awareness Month. At Cariati Law, we want to raise awareness by sharing some startling statistics about distracted driving. A car accident can happen at any given moment to anyone on the road.
The Startling Statistics according to the Think Insure Canada:
An accident is 23 times more likely to occur if one is texting and driving.
1 in 5 drivers confess to browsing the web while driving.
It takes an average of 5 seconds after a driver's mind is taken off the road for an accident to occur.
Smartphones are the most common form of distraction among drivers.
Texting while driving is 6 times more likely to cause an accident than drunk driving.
To learn more about distracted driving awareness and the statistics visit Think Insure Canada. When operating a motor vehicle please pay attention at all times and do not text and drive, drink & drive or take your eyes off the road or your hands off the wheel.
If you or a loved one is seriously injured in a motor vehicle accident that was not your fault, call Cariati Law at 289-807-5165 for help. When you call, you will speak with an experienced Toronto Car Accident lawyer absolutely FREE.
At Cariati Law, we will investigate every detail of your car accident at no cost to you, and you owe us nothing until we win your case. All cases are handled on a contingency fee basis, which means you pay us nothing up front.
 Cariati Law – Passion Behind Every Case