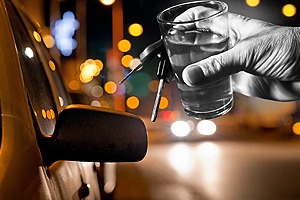 Did you know there has been a 50% increase in motor vehicle crashes involving alcohol this year over last year? This major spike in alcohol-related crashes comes after repeated warnings and education campaigns about the dangers of getting behind the wheel after having a few drinks.
Just this holiday season, police have been conducting their annual R.I.D.E campaign to reduce drinking and driving, which is more common during the holiday season.
"We still don't seem to have a high enough compliance rate," Stewart said about drinking and driving.
Alcohol was a factor in about 20% of vehicle-related trauma cases at Hamilton Health Sciences last year.
But, the statistics don't do justice to the pain and suffering caused by drunk driving victims and their families. Too many lives have been lost on Ontario roads because of alcohol related collisions. And too many innocent people have suffered serious and life changing injuries because of drunk drivers.
Hamilton police will be out on the roads in full force this holiday season looking for impaired, aggressive, or distracted drivers, Stewart said.
Click here to read the full story.
At Cariati Law, we want to help you stay safer during this holiday season. Many alcohol related car accidents result in permanent brain damage, spinal cord injuries or paralysis.
So, what can you do to help prevent drinking and driving in Ontario?
MADD suggests:
Be responsible.
Choose a designated driver. Decide who's going to be doing the driving before you go out, and make sure that person doesn't drink any alcoholic beverages.
Call a taxi. Sometimes even the designated driver slips. If nobody in your group is sober, take alternate transportation. Cab, train, bus, horse and buggy – anything's better than getting in the car with a drunk driver.
Hide keys. Don't be afraid to take someone's car keys.
Together, let's work to prevent alcohol related accidents on our Ontario Roads. At Cariati Law, we deeply care about your safety.
If you or a loved one is seriously injured in a car accident call Cariati Law at 905-629-8040 for help. When you call, you will speak with an experienced Toronto Car Accident lawyer absolutely FREE. We will investigate your accident, handle all of the paperwork, manage your entire insurance claim so you can focus on your recovery.
At Cariati Law our top car accident lawyers will investigate every detail of your Mississauga Canada car or truck accident claim for free. All cases are handled on a contingency fee basis, which means you pay us nothing up front. In fact, we only get paid after you do, and if there is no recovery, there is no lawyers fee.
Cariati Law – Passion Behind Every Case