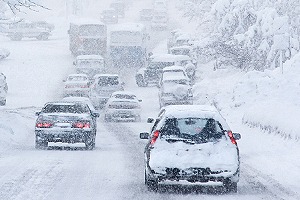 With the upcoming winter storm set to threaten parts of Southern Ontario, it is important to be prepared when driving in dangerous weather conditions such as snow and ice. Roads may become extremely hazardous and slick. Some drivers get nervous, others lose control, cars may unexpectedly skid, and unsalted roads become hazardous.
While we don't think about it, accidents happen, especially in bad weather. Drivers can be more vigilant during bad weather and need to be prepared for the unexpected.
As this storm approaches we want to make sure all motorist are prepared for the risky travel conditions ahead. Winter weather calls for more than just salted roads and antifreeze.
At Cariati law, we want to help drivers be safe and prepared in snowy conditions by sharing a few helpful tips.
These tips are recommended by CBC News Canada:
Check weather conditions. Make sure you are prepared for all road conditions and carefully chose your route ahead of time.
Keep a safe distance behind snow plows. Snow plow drivers can't always see you or stop as quickly, they can also create clouds of snow making it hard to see while driving.
Slow down. Give yourself extra time to get to your destination which will vary according to the road conditions.
Clear your vehicle before driving. Make sure your windows, lights, mirrors and roof have been cleaned in order to improve your visibility and safety.
Avoid using cruise control. It is too easy to lose control of your vehicle during bad weather if you rely on cruise control. Avoid driving all together if the conditions are really bad.
If you or a loved one is seriously injured in any type of motor vehicle accident, call Cariati Law at 289-807-5165 for help. When you call, you will speak with an experienced Toronto Car Accident lawyer absolutely FREE.
At Cariati Law, we will investigate every detail of your car accident at no cost to you, and you owe us nothing until we win your case. All cases are handled on a contingency fee basis, which means you pay us nothing up front.
Cariati Law – Passion Behind Every Case