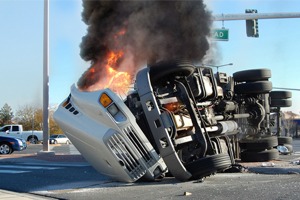 Drivers of large transport trucks and tractor trailers are often put into dangerous situations by trucking companies. Many truck drivers work long hours to meet shipment deadlines. This behavior can cause driver fatigue and distraction, putting all motorists in danger.
Additionally, truck drivers may be forced to operate large vehicles that do not have required safety inspections, may contain defective safety equipment, or have improperly loaded cargo.
When trucking companies fail to follow proper safety procedures put in place to protect innocent motorists and truck drivers, the consequences can be devastating. Unfortunately, accidents involving commercial trucks and tractor trailers can result in serious and sometimes fatal injuries for the occupants of smaller vehicles.
A recent local tractor trailer accident occurred on Ontario's, King Highway 401. The large truck burst into flames resulting in a large pile up leaving 4 dead and many people injured. The transport truck driver has been charged with four counts of dangerous operation of a motor vehicle causing death, as well as two more counts of dangerous operation causing bodily harm.
The investigation is still ongoing, to see more on this story click here.
Our sincere condolences go out to the families and victims involved in this tragic accident. At Cariati Law we care about the safety of all motorists. We will continue to share important safety driving tips and steps to take to help ensure you reach your destinations safely. Below are some helpful tips to consider…
Remain Visible – large trucks have major blind spots that make it difficult to see other motorists around them. Always remember if you cannot see a tractor trailers side view mirrors, then the driver cannot see you. So take special care when passing on the left and right side of a large truck or commercial vehicle.
Keep Your Distance – Due to a large trucks size and weight, they require much more room to brake and maneuver on the road. Make sure to give large trucks and tractor trailers more space behind you so that you can have enough time to stop and/or slow down.
Watch out for Wide Turns – Large trucks are equipped with warnings that alert motorists that their vehicle is making a wide turn. Watch for trucks turn signals, and never attempt to pass a truck that is about to make a turn.
If you or a loved one are seriously injured in a large truck accident that was not your fault, call Cariati Law at 905-629-8040. When you call, you will speak with an experienced Toronto, Hamilton and Mississauga, Ontario Truck Accident Lawyer absolutely FREE.
We will investigate every detail of your accident at no cost to you and fight hard to ensure that your rights are protected. If you were hurt due to someone else's negligence, Cariati Law will fight to get you the maximum recovery.
At Cariati Law, you will never pay a lawyer's fee up front, and we don't get paid until you do.
Cariati Law – Passion Behind Every Case