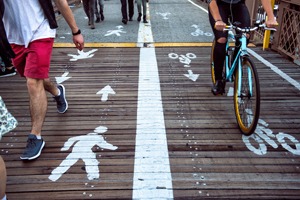 A cyclist is under fire after knocking a toddler out of his stroller. The cyclist was riding on the sidewalk when the incident occurred. The infant fell out of his stroller hitting his head on the pavement.
The cyclist did not alert the mother that she was approaching them.
Cyclists who ride on the sidewalk with pedestrians need to be cautious of those around them and always alert someone when they are approaching. Luckily the toddler did not suffer from any severe injures, and was later released from the hospital.
To read the full article click here.
This accident was not only preventable but also illegal. The cities bylaw prohibits cyclists from riding on sidewalks where there aren't authorized signs. Here are some important safety tips to remember for cyclists and pedestrians:
Always alert pedestrians and other cyclists when approaching them in order to avoid an accident from occurring.
Avoid riding on sidewalks – if there is not a bike lane keep to the right hand side of the road!
It is illegal to ride on a majority of sidewalks and crosswalks!
If you are riding on the sidewalk make sure it is where there are authorized signs allowing cyclists to share the sidewalks, otherwise ride in proper designated bike lanes.
Make sure to always follow the rules of the road and obey all traffic signs and signals.
Always check for pedestrians at crosswalks
Make sure to properly signal before making a turn at any intersection.
Cyclists just like any other motorists are responsible for making sure they are safely sharing the roads and looking out for pedestrians. Next time you are riding your bike make sure to follow these safety tips to avoid an accident from occurring.
At Cariati Law, we are committed to protecting the rights of injured pedestrians. If you or a loved one was injured in a pedestrian accident, call Cariati Law today at 905-629-8040.
Our experienced Toronto Pedestrian Accident Lawyers will speak with you for FREE, investigate every detail of your accident, and fight to get you the maximum compensation.
When you trust Cariati Law to handle your Mississauga accident claim, you will never pay a lawyer's fee up front, and you owe us nothing until we recover for you. At Cariati Law, we don't get paid until you do. Let us help you through your difficult time, and guide you in the right direction.
 Cariati Law – Passion Behind Every Case