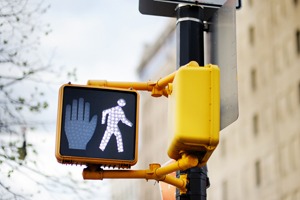 Pedestrian accidents happen a lot, especially in more highly populated areas. It is very important to always pay attention when crossing the street or walking thru a parking lot. So many pedestrians today are looking down at a mobile device, and not paying attention to oncoming traffic. The fact is, you need to protect yourself, and you cannot depend on other drivers to watch out for you.
A car near York University struck a 25-year-old female this past week. The victim was transported to a nearby hospital where she lost her life due to a severe head injury. The driver of the vehicle did remain at the scene. The investigation is still ongoing as to the cause of the driver hitting the pedestrian.
To read the full article click here.
It is important for all drivers to be aware of pedestrians while driving. Pedestrians are vulnerable and more likely to suffer from severe injuries when involved in an accident due to their lack of protection. Pedestrians do have the right of way, but not all drivers are paying attention, and many pedestrians are not paying attention, and this can be a fatal mistake.
Here are some important safety tips for both drivers and pedestrians to remember.
For Pedestrians:
Make sure drivers can see you – wear bright reflective clothes, carry a flashlight when walking at night, cross the street at a well lit area.
Always use the sidewalk & if there is not one on your route walk with the flow of traffic.
Never assume a vehicle is going to stop!
Use the proper signals when crossing & always look both ways.
Look out for turning traffic when you are crossing the street at a designated crosswalk/intersection.
Don't wear headphones or talk on the cell phone when walking.
Do not look down on your mobile device when crossing the street.
Always look left, then right, then left again before you cross the street
For Drivers:
Slow down at crosswalks and check for pedestrians.
Never text and drive!
Never drink & drive!
Yield to pedestrians when turning.
Be alert when passing stopped vehicles – make sure there are not any cyclists or pedestrians going around the vehicle.
Always obey the speed limit – the faster you are traveling the longer it will take to stop.
Whether you are driving to work, home from school or to run an everyday errand always be cautious of pedestrians when driving and never use your cell phone behind the wheel.
At Cariati Law, we are committed to protecting the rights of injured pedestrians. If you or a loved one was injured in a pedestrian accident, call Cariati Law today at 905-629-8040.
Our experienced Toronto Pedestrian Accident Lawyers will speak with you for FREE, investigate every detail of your accident, and fight to get you the maximum compensation.
When you trust Cariati Law to handle your Mississauga car accident claim, you will never pay a lawyer's fee up front, and you owe us nothing until we recover for you. At Cariati Law, we don't get paid until you do. Let us help you through your difficult time, and guide you in the right direction.
 Cariati Law – Passion Behind Every Case