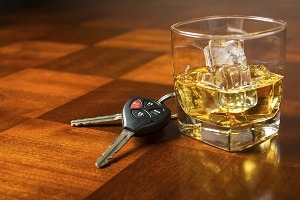 Ontario Provincial Police faced a flurry of dangerous driving activity on Toronto's Highway 401 over the weekend, leading to multiple arrests. Police have announced that four drivers were arrested in the early morning of Sunday, January 25th and charged with Driving Under the Influence of alcohol following four separate collisions. All four collisions are reported to have occurred within a 4 hour window.
The activity began around 11 pm Saturday night, and continued until approximately 3:17 am Sunday morning. The first accident, which involved a 19-year-old Scarborough motorist, took place on Highway 401 near the eastbound ramp of Markham Road. The other accidents also occurred on Highway 401 near the intersections of Leslie Street, Allen Road, and Bayview Avenue, respectively.
According to Police, all 4 incidents involved drunk drivers that were arrested at the scene of the accidents. The punishments for these drivers will vary, but under Ontario law, all 4 face an immediate 90-day license suspension.
In addition to the fines and possible long-term license suspensions that accompany a DUI arrest, several of the drivers in question were under the age of 21, meaning they could face additional punishment. Under Ontario law, drivers aged 21 and under are considered novice drivers, and cannot be caught with a trace of alcohol in their blood while behind the wheel. Fines for these novice drivers can range from $50 to $600 dollars, and can also be accompanied by a loss or suspension of their drivers license and even possible jail time.
Fortunately, none of these accidents resulted in any serious injuries. However, Ontario Police are still warning of increased DUI enforcement on local roads around the Greater Toronto Area. 2 people have already been fatally injured in Ontario so far in 2015 from accidents involving drunk drivers.
If you or a loved one are injured by an intoxicated, negligent or reckless driver, call Cariati Law at 905-629-8040. Our Toronto, Ontario Accident and Personal Injury law firm has the experienced and dedicated legal team you need to secure the maximum compensation for your injuries.
At Cariati Law, you can speak with an experienced Toronto Car Accident lawyer for FREE. We will help you understand the details of your case and will stand with you from the start of your claim to the finish.
Each and every Ontario, Canada injury & disability lawyer at Cariati Law is innovative, aggressive and result-oriented when serving the diverse legal needs of our clients. Our lawyers are committed to protecting your rights. When injured, make one call to Cariati Law.
Cariati Law – Passion Behind Every Case.