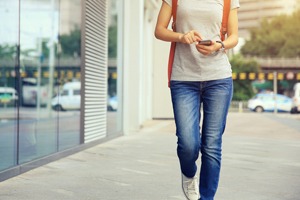 After five pedestrian deaths so far in 2018, Toronto police have launched a pedestrian safety enforcement and education campaign on Tuesday, January 16.
"We've got to change behavior. We've got people in the city — drivers, pedestrians and cyclists — just not paying 100 per cent attention to what they're doing and it's resulting in people being killed," said Supt. Scott Baptist, unit commander of traffic services.
According to police data, there have been 7 deaths from motor vehicle collisions in 2018, 5 of which involved pedestrians. That represents a 250% increase over the number of deaths at the same time last year.
Among those included in the statistics are a five-year-old girl who died after she was pinned between two vehicles outside her school in North York, and a 74-year-old woman who died after being struck by a Canada Post delivery truck on Eglinton Avenue.  On the dark and rainy evening of Jan. 11, over 10 pedestrians were struck by drivers in a two-hour period. Luckily none of these resulted in fatalities.
Canada Safety Council urges pedestrians to be conscious of their surroundings. Take safety into your own hands. Don't assume because it's your turn to cross that drivers will stop for you. Only cross when it is safe. Always look right, left, then right again before crossing.
In all, the last several years have been especially dangerous for pedestrians. A total of 36 people were killed by drivers in all of 2017, while 43 people were killed in 2016, the deadliest year for pedestrians in Toronto since 2002.
As a rule, please do not walk looking down at your cell phone. Always look straight ahead watching for traffic, bikes, and any other potential hazards in your way.
It is up to both drivers and pedestrians to keep everyone safe on Ontario roads.
Baptist said that seniors are over-represented in terms of total deaths compared with other demographics, while left-turns by drivers at intersections and mid-block crossings by pedestrians seem to be particular safety issues.
Pay special attention to pedestrians as you drive. Here are some tips to follow:
Always look for pedestrians, especially when turning.
Watch for children. Drive slowly and cautiously through school zones, residential areas, or any other area where children could be walking or playing.
Be patient, especially with seniors or pedestrians with disabilities who need more time to cross the road.
Together, we can help reduce pedestrian accidents, injury and deaths on our Ontario roads. At Cariati Law, we deeply care about your safety.
If you or a loved one is seriously injured in any type of motor vehicle accident, call Cariati Law at 905-629-8040 for help. When you call, you will speak with an experienced Toronto Car Accident lawyer absolutely FREE. We will investigate your accident, handle all of the paperwork, manage your entire claim so you can focus on your recovery.
At Cariati Law our top car accident lawyers will investigate every detail of your car accident claim for free.  We will handle your entire insurance claim for you. All cases are handled on a contingency fee basis, which means you pay us nothing up front. In fact, we only get paid after you do, and if there is no recovery, there is no lawyers fee.
Cariati Law – Passion Behind Every Case