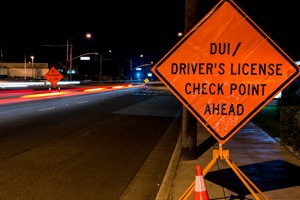 The numbers are in from the Reduce Impaired Driving Everywhere (RIDE) campaign, which took place between Nov. 24, 2017 and Jan. 2, 2018.
Nearly 400 drunk drivers were stopped in Mississauga and Brampton during a six-week campaign targeting impaired-related offences. The 2017 RIDE campaign focused on removing drivers – impaired by drugs or alcohol – from roads.
RIDE is a six-week campaign, which aims to combat drinking and driving which is more common during the Holiday season. The holidays are a time for festive fun, family gatherings and good cheer, but they also bring an increased risk of drunk driving as a result of the abundance of festivities.
– 24,129 vehicles were investigated across Mississauga and Brampton
– 191 people were arrested and charged with alcohol and/or drug-related driving offences
– 197 drivers were issued 'warn range' driver's license suspensions
While the numbers are down from a year ago, it's "simply unacceptable that police continue to identify significant numbers of individuals who continue to risk the lives of innocent road users and themselves by driving while impaired," said Peel Regional Police Insp. Paul Pogue from the road safety unit.
Here is how it breaks down by city, gender, and age:
108 charges were laid in Mississauga
83 charges were laid in Brampton
152 drivers were male and 39 were female
66% of those charged were between age 21 to 40
33,011 vehicles stopped
215 drivers were charged
208 blew a 'warn'
Police are reminding residents that road safety is a shared responsibility.
The OPP is again reminding the public to call 911 if you suspect that someone is driving while impaired by alcohol or drugs. In doing so, you could be saving lives.
Together, we can help prevent accidents, injury and deaths on our Ontario roads. At Cariati Law, we deeply care about your safety.
If you or a loved one is seriously injured in any type of motor vehicle accident, call Cariati Law at 905-629-8040 for help. When you call, you will speak with an experienced Toronto Car Accident lawyer absolutely FREE. We will investigate your accident, handle all of the paperwork, manage your entire claim so you can focus on your recovery.
At Cariati Law our top car accident lawyers will investigate every detail of your car accident for free. All cases are handled on a contingency fee basis, which means you pay us nothing up front. In fact, we only get paid after you do, and if there is no recovery, there is no lawyers fee.
Cariati Law – Passion Behind Every Case