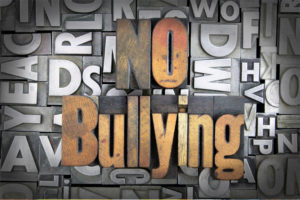 School bullying is becoming an epidemic and too many children and young adults are faced with dealing with different forms of aggression more than ever before. With the age of mobile devices and technology, there are more and more incidents of cyber bullying that are just as damaging as physical and verbal bullying.
All children should feel safe on their way to school, during school and at home, but for some this isn't the case. Bullying is not a normal experience children should have growing up, and in some cases, can lead to psychological trauma and physical injuries that could last a lifetime.
In the City or Toronto, 9% of Elementary School children, and 11% of High School students say they were bullied at least once a week. These numbers are staggering. It is important that more and more parents get involved as well as school faculty, to continue to educate and hold bully's accountable when their actions hurt another.
The definition of bullying continues to evolve, and is no longer confined to strictly physical aggressiveness. Children can experience social exclusion, cyber bullying and verbal harassment.
Children, young adults and individuals who were bullied can experience long-term effects. Some of these include:
–       Depression
–       Anxiety
–       Low self-esteem
–       Heightened aggressive behavior
–       Anti-Social Behavior
Here are some ways to avoid a bully and to help your children respond to a potentially bad situation better:
–       Stay together in a group – there is safety in numbers, and when possible always stay with a group of friends, family members or classmates.
–       Walk away from trouble – if you are around a potentially dangerous or aggressive situation, just walk away.
–       Be brave – always tell someone you trust if you or someone you know is being bullied.
–       Go directly to school faculty and make a formal complaint. Be clear that you are making a formal compliant.
–       Discuss various potential situations with your kids and do role-playing to help prepare them, if a situation of bullying occurs.
–       Education is very important to help kids know how to handle these types of situations.
If a family member or someone you know is the victim of bullying at school or in the workplace, Cariati Law is here to help. We believe that all children should be safe, and our team of experienced lawyers is here to stand up for you and your family. Cariati Law has helped many families who have dealt with the aftermath of bullying and they may be able to help you too.
Contact Cariati Law, a law firm committed to Anti-Bullying.
Contact a Cariati Law Injury & Disability lawyer in Toronto, Canada. Each and every Toronto and Mississauga, Canada Injury & Disability lawyer at our firm is innovative, aggressive and result-oriented when serving the diverse legal needs of our clients. Our lawyers are committed to protecting your rights.
Call Cariati Law for a FREE, no obligation, and confidential consultation at 905-629-8040. Cariati Law, Toronto Injury & Disability lawyers announce our No Fee Promise- meaning you owe us nothing unless we win your case. When injured, make one call to Cariati Law.
Cariati Law, passion behind every case.